K- I have been gone for a while and it has been REALLY hard to try to jump back into things, so I am sorry. Today I have 3 different kits/ products from my amazing designers!!
First I am going to start with Laurie's Scraps new kit-
A Dream is a Wish
. She is in the process of making several 'princess' kits that will all go together nicely. Now I don't have any girls to scrap, so I found a couple of pictures from our Disney World trip in 2004 and scrapped those.
Next I have a bright, fun kit by Graham Like the Cracker and her collab partner Connie Prince-
Mischief Monsters
. Now this kit was just what I love- perfect colors and elements to scrap those silly boys I have.
And last from Trixie Scraps latest volume in her "Star Struck" line of templates. It is available for sale in her guest shop at The Digichick for the remainder of this month. This set is based on Melissa's fabulous layouts and I think it turned out great! Love Melissa's clustered style - it ROCKS!
Star Struck Templates vol 3: Melissa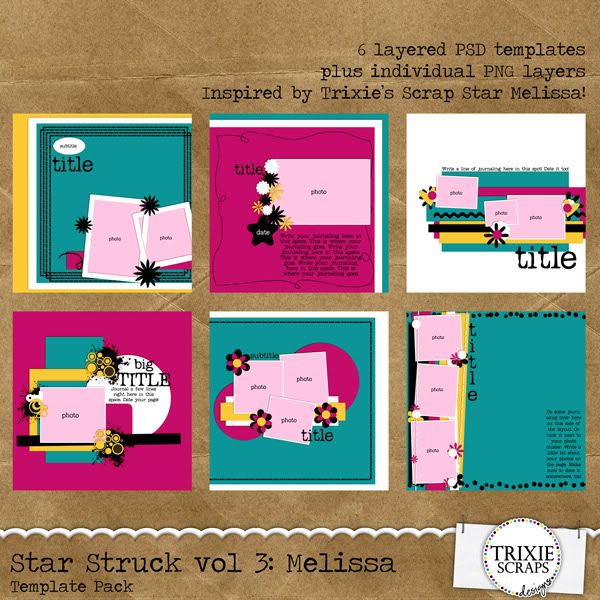 (Kits used- Trixie Scraps: 'Gotta Hug' and 'Sk8ter Boy')
And then, she has two "Sunday Afternoon" add-on releases today at ScrapMatters. The first is an amazing set of "extras" that were pulled together by the Scrap Stars as a participation prize for the first Queen of Scrap challenge that Tracy sponsored. But, if you missed them because you didn't do the challenge, you can now buy them in the shop! Also she teamed up with Carrin of Twinderland Scraps to bring you another AMAZING blogwear set. I am in love!!!!
Sunday Afternoon - Extras
Sunday Afternoon Blogwear
Lastly don't forget that Tracy all 3 of these products can also be
purchased in her personal store
, and they are all on sale, along with the entire store. And, the Daily Download continues on the
Scrap Stars blog
, as well. Thanks for stopping in.